HUDA is inviting applications for freehold residential plots in Sector-14 (Part II) and Sector-33 (Part I) of Hissar. If one is successful in the draw then that can be a good financial gain if one is purchasing from investment point of view only or can get a piece of land to live on, and on the flip side that person may not apply for other such schemes launched by HUDA. I still see the positives far important then negatives.
Why one should apply for it?
1. Trust of price on HUDA and DDA
In my last 12 years of financial life, I have seen that applying for plots/flats from agencies such as DDA or HUDA is always worth considering. They offer the piece of land at way below the market price. Even if they offer the same price as market price, they take fairly long time to give possession and one still needs to pay the older price. Overall, the piece of land one gets is cheaper than the market price. There have been instances when their offer is not too good but the probability of that is quite low.
2. Demand is more than supply
As per my research in one of the branch of Axis Bank, approximately 250 applications were received until Saturday July 6, 2013. Axis Bank has over 2000 branches and if we consider that the craze is same in 20% of the branches then 500*250 = 1,25,000 applications have been received in Axis bank alone.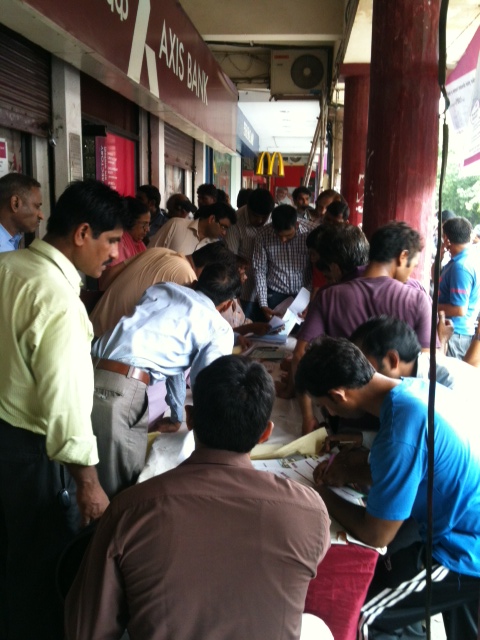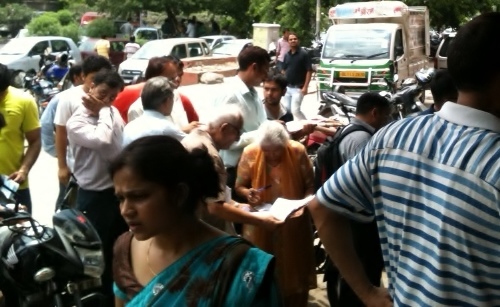 The prospectus of the scheme lists 8 banks (see How to apply for list of banks). If I extrapolate the calculation of applications to all these banks then 1,25,000*8 = 10,00,000 applications have been received until that Saturday (yesterday).
Total number of plots in this scheme is 2843 (see How to apply for number of plots of each size in both sectors).
Total applications received is 10,00,000
Probability of getting a plot = 0.2843% or 3 plots per 1000 applicants
Since probability of striking this deal is too low, this scheme is more like a lottery except that a chance of loss is too low until you opt for personal loan to apply.
How to Apply?
Read the Brochure for accurate details. I am also giving advertisement for quick look.
Last date for application is Monday July 8, 2013 (tomorrow). Make up your mind and proceed for next steps.
Enquire whether you are eligible for this scheme. One of the disqualifications I am aware of is that HUDA should not have awarded you or your spouse a plot of land. Refer to brochure for more details.
Obtain the application form. The price of form is Rs 50 if downloaded from website, Rs 150 if requested by post and Rs 100 when obtaining from HUDA office or banks in person.

Obtain the form from the following banks. Not all branches may have the form and you may need to search around.

State Bank of India
Union Bank of India
Bank of Baroda
ICICI Bank
HDFC Bank
Punjab National Bank
Oriental Bank of Commerce
State Bank of Patiala
Axis Bank

From HUDA office




Estate Officer, Huda, Hissar
Office of the Chief Administrator, HUDA, C-3, Sector-6, Panchkula

Download from HUDA website. I am recommending this site, even though I could not find the exact link. Please share if you notice the link to download the application online.
There is also an option to get the form by post but there is no time to avail this option.

Choose the size of plot and the sector you are interested in. This data is only for General category applicants. Sector-14 Part II and Sector 33 are adjacent, so location should not be a big consideration choosing. 1 Kanal is equal to 605 sq yards and 1 Marla is equal to 1/20 Kanal or 30.25 sq yards (Read Wikipedia).
Choose whether you are paying the earnest money yourself or taking personal loan designed for this scheme by various banks.

If you are paying the earnest money yourself then you need to fill the application form and deposit the form with the earnest money to one of the banks dealing in this scheme (you may deposit to the same bank from where you obtained the form).
If you are availing personal loan then banks have their own set of documents. Most of the time, an applicant needs to provide

Photocopy of PAN
Photocopy of address proof
Photocopy of identity proof
At least one photo

Fill up the loan form
Deposit the loan money to the bank and provide the deposit receipt to the personnel processing loan application
I believe one should invest in this scheme. I am reminding again that last date to apply in this scheme is Monday July 8, 2013 Tomorrow.