Last trading price of State Bank of India (SBIN) on August 8, 2013 was Rs 1,654.40 and this script looks attractive to enter at this price. 52 weeks low price of SBI is Rs 1633.05 and the present price is just 1% above that price. Any script that trades close to its 52 weeks low price can be a good buy provided company, industry, country and world has growth prospect.
World, Country and Banking Industry
SBI is at such a low price is not an anomaly but a general trend in banking scripts. Banking scripts suffered because banks lent loans for projects/industries during the boom time. Later projects/industries suffered and could not repay. Although, inability for industries to pay back loan shows weakness of country' economy yet government is taking steps to kickstart economy.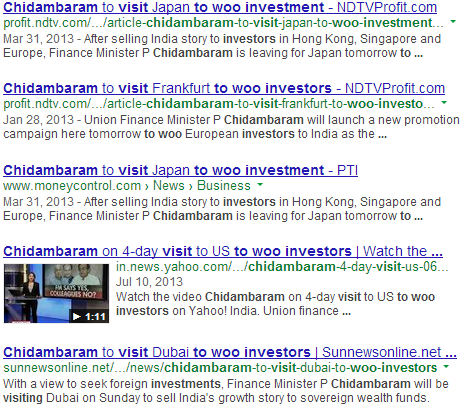 Government should be very active after 2014 General Election which is around the corner.
On the similar lines, US economy and the economies of other countries of the world are also likely to improve.
SBI In particular
SBI in particular got a bad name because its NPA in March 2013 was 4.75% which was more than NPA an year ago at 4.44% in March 2012. However, SBI Chairman Pratip Chaudhury assured that NPA of SBI is not alarming. One may further see that although NPA of SBI has increased year on year, but if you look closely then you will see that NPA increased for a year and then started to fall.




Quarterly result of SBI is expected on August 12, 2013 and if NPA falls further then SBI will gain more recommendations for buy.

CNX Bank index is down by 6.77% from 365 days back value. It is to be noted that SBI is down by 19.72%.

Value of SBI at such a low rate was because of continuous increase in NPA and now that issue seems to have been addressed.
Key ratios P/E (Price by Earning Ratio) and P/B (Price by Book value) are attractive at this point. P/E is at 8.06 and P/B is at 1.15. P/B value at 1.15 means SBI shares are overpriced by only 15%. If you wonder 15% is a big number then you will be amazed to see that P/B value is in multiple of tens or even hundred and P/B close to 1 means company has enough assets to pay back shareholders if company goes out of business one day.
SBI is among the top 10 brands of India in year 2013 and value of brand itself stands at 3,838 million USD.
According to Moneycontrol.com, latest reports from Analysts suggest that SBI stock price will come to Rs 1500 to 1600 level.

Now, SBI is trading at close to 1654 after once breaching Rs 1633.05. I would not recommend taking a chance of price falling to Rs 1500 or 1550 level if one plans to invest in SBI on a long term basis. One may now buy at least a portion of what one intends to invest eventually and may buy more on further drop in price (not much drop is expected).
Conclusion
Considering the above reasons, I believe SBI is at a level at which an investor should buy SBI shares. If NPA of this quarter reduces further then this script should get to the level of Rs 3,200 in next 3 years.