With high interest rate, crashing sensex and rising inflation, Fixed Maturity Plans (FMP) are becoming attractive investment instruments.
What is Fixed Maturity Plan?
Fixed Maturity Plan is a close-ended mutual fund that invests its funds in debt, bank fixed deposits and corporate fixed deposits. The maturity of the instruments in which the fund invests is on the date of maturity of fund or prior to it. Most of the time, maturity of underlying investment and fund's investment matches closely.
With the finance minister's decision for liquidity tightening conditions, interest rates have surged. The return on Certificate of Deposits (CD) from Banks (currently around 9.9%) and Commercial Papers (CP) issued by companies (currently around 10.8%) are at their all-time high [Source of CD and CP yields Make the most of fixed maturity plans]. Since Fixed Maturity Plans invest in CD, CP, bank FDs, corporate FDs and other instruments of debt nature, FMPs would lock-in those interest rates and the yields for FMP would be higher. With the fund management fees in the range of 0.5% to 1% (a Fund can charge maximum of 2.25%), yield on FMP should be in the range of 8.5% to 9%.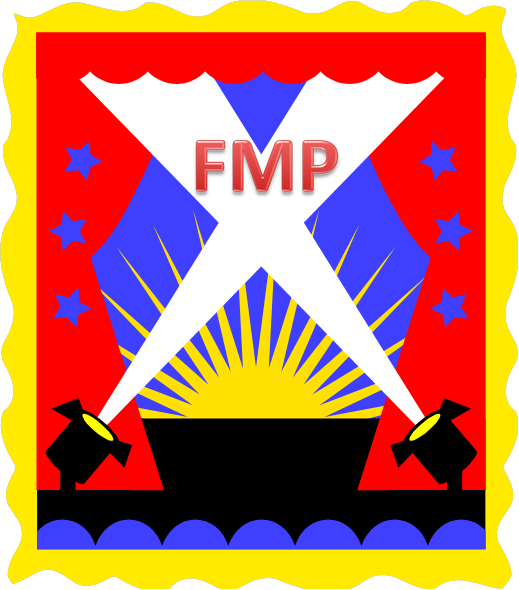 Benefit of FMP over Fixed Deposits
The best benefit of FMP over Fixed Deposit is that an investor may reduce his tax liability substantially by investing in FMP.
Return from Fixed Deposit is always taxed at the investor's income tax slab.
Return from FMP is considered Long Term Capital Gain if investor invests for more than 1 year. Long Term Capital Gain is taxed at the rate of 10% without indexation and 20% with indexation. Refer to Just Sold a Property or Gold – Capital Gains Tax? for details.
As per one calculation, Effective Yield from FD is 6.02% while Effective Yield from FMP is 7.74% and 8.59% from FMP when tax is paid without indexation and with indexation respectively.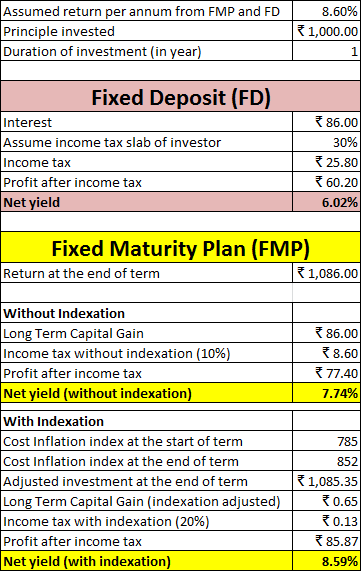 There is no difference in effective yield if a person invests in FMP of duration shorter than 1 year.
Is it safe?
Many a times, investments are made in debt instruments and declaration state that a fund does not invest in certain sectors (for example recently I read exclusion real estate, automobile sectors).
Maturity of underlying instruments is shorter or equal to fund's maturity date.
Nonetheless, FMP is a mutual fund and non-guaranteed instruments. It is less risky as long as fund house invests in safe instruments (preferably AAA rated) and it is a reputed fund house.