International Finance Corporation (IFC) is going to launch $1 billion INR bonds in international market. These bonds have become talk of the town. Now, IFC is searching for a desi name for these bonds.
What is IFC?
IFC is an international finance organization which offers investment, advisory and asset management services to its developing nation members. This organization was established in 1956 as private arm of World Bank. The organization invests in for-profit organizations and projects to promote economic activity and thus help reduce poverty and dependence on World Bank help. It is head quartered in Washington DC and it has 184 countries as its members. Half of its work force is stationed at headquarters and other half is based in member countries. Read more about the organization at IFC website and Wikipedia.
What are INR Bonds?
These are bonds (debentures) that an investor can buy in international market by making payment in INR. By making payment in INR means the investor will first need to convert his money in other currency such as USD or GBP to INR and then buy these bonds. There will be a coupon rate on these bonds say 3-5% which the investor will get per annum for the duration of these bonds. The coupon rate and the duration of these bonds have not been published yet. After the maturity, the principal paid to buy the bonds along with interest (coupon rate) will be paid to investor in INR. The investor may then get the return in INR converted to the currency of his choice from open market.
The investor may also sell/buy these bonds from secondary market just like other bonds.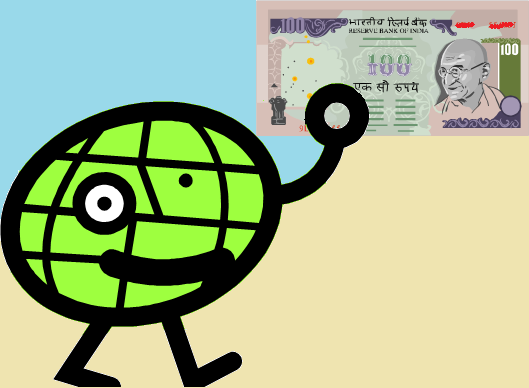 These bonds are different from bonds in hard currencies such as USD in the sense that investor is not only undergoing risk of principle if IFC defaults in servicing these bonds but also the value of currency (INR). If at the time of maturity of bonds, the value of INR falls to a large value then investor may get less returns or may even face losses.
Why is this bond talk of the town?
These bonds are talk of the town for the following reasons:
Investors are excited because of the prospect of investing in a fast growing economy India.
Indians are excited because proceeds from these bonds will be used to finance industries and organizations in India. The investment if works well for for-profit organizations will generate profit for the company, give employment to people and contribute to the well-being of economy.
Rating of IFC is AAA while sovereign rating of India is BBB-. Thus, an investor may invest in Indian economy (rated at the lowest investment grade) with an instrument that is rated at the top investment grade (AAA).
This is the first time Indian Government is allowing issue of such bonds.




INR bonds in international market will popularize INR and it is possible that one day India exports and imports using INR as the transaction currency instead of USD or GBP.
India may also promote track of its debt in international index if there is an acceptance of these bonds.
Interesting Names of Local Currency Bonds so Far
While researching these bonds, I came across highly indigenous names of bonds issued in local currencies. India may have some desi name just like one of these.
Dim sum
Kimchi
Baklawa
Maple
Kiwi
Bulldog
Panda
Kangaroo
Yankee
Samurai
Conclusion
IFC is issuing INR Bonds that is expected to bring cheer to international investment community as well as India. Now, everyone is waiting for the announcement of name of this bond. Would you like to suggest a desi (indigenous) name just as local names as Dim sum, Kangaroo or Samurai?