An investor may buy a property for a few thousand rupees and earn rent or interest. This is not about assured return on commercial property. I repeat investment need not be in minimum few lakh rupees, investment can be as low as a few thousand rupees. Welcome to the world of Real Estate Investment Trusts (REIT).
What is REIT?
A REIT is an organization that pools money from investors and invests in real estate. The investment in real estate yields returns in the form of rental income or from interest if REIT extends loan to a real estate buyer. The profit thus earned is given to investors in the form of regular dividend. The investment instrument floated by REIT can be publicly traded or within confine quarters.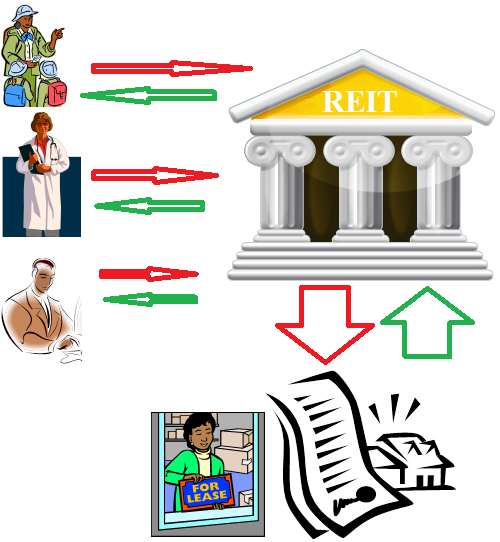 Is it an indian concept?
No, REIT is in existence since 1960. There are almost 20 countries that have already adopted REIT and more countries are in the process of adopting.
Impact on Investor of REIT
Benefit
An investor may invest in real estate as a means to diversify his/her portfolio. Investment can be miniscule in comparison to buying a property.
The share of property bought by REIT can be sold to another investor just like mutual funds can be sold on exchange.
Real estate bought/mortgaged by REIT can be managed by professional services. This may give higher return on the property which an individual investor may not get when working solo.
Investment in REIT may qualify under syariah compliance (Islamic Investment Compliance), which may benefit a muslim person.
 Ill effects
No matter how many shares of a REIT's instrument an investor buys, the investor will not get possession of the property. Thus, he/she may not use the property for own use.




Non-publicly traded REIT funds may not give much visibility to the authenticity and price to an investor. These funds carry significant risk.
Impact on Economy
Benefits
Investing in real estate can provide another venture for investors who might otherwise invest in gold.
With the money of regular investors getting into real estate, transparency into the operations of real estate industry will have to be brought in which may reduce black money going into real estate. The final effect may be lesser options for reinvestment of black money and thus reduction of corruption.
Foreign entities may invest in Indian Real Estate thus bringing in foreign exchange and funding CAD (Current Account Deficit) of India. As an example a Japanese firm may directly invest in Indian real estate sector.
Ill effects
If there is a property bubble or depression of property prices then small investors may suffer
Speculation in stock market on these funds may hurt real estate sector financially
The process of starting REIT has been going on since 2008 and one never knows how long will the government take to finalize REIT. However, REIT seems to be a promising instrument especially when real estate seems to be booming in India. Let's see when it is finalized in India.