Buying a home is always an extreme financial stretch for a middle class person. If one is looking for first house then the thought of paying rent for the current residence along with EMI for apartment bought in under-construction scheme can be daunting for a person. To alleviate buyers from the double burden of rent and EMI and to sell more units, builders have coined Subvention Scheme aka 20-80 scheme.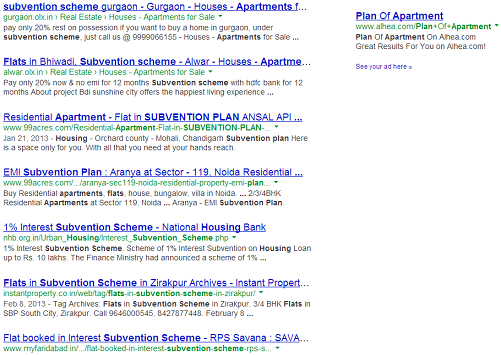 What is Subvention Scheme?
In subvention scheme, builders promise to pay interest for the loan taken to purchase an apartment or dwelling unit with some clauses:
Builder promises to pay for 2 years to 3 years or until possession has been given to buyer. In some cases builder may even promise to pay until he gives possession even if project is delayed.
Builder may have a tie up bank directly or builder may give you a written statement for promise to pay interest component until the clause for buyer to start paying EMI starts.

If builder has a tie up with bank then builder gives EMI directly to bank.
If builder does not have a tie up with bank then builder will pay interest component payment to buyer directly and buyer will then pay EMI to bank.

Builder may limit the rate of interest paid in subvention scheme. For example builder may put a clause stating that he will pay maximum of 10% rate of interest and any escalation on rate of interest will need to be borne by buyer.
Builder may pay 20% share of the cost that needed to be borne by buyer at the time of booking (banks generally finance up to 80% of the cost of unit) but buyer will need to repay that 20% to builder at the time of possession.
The scheme is beneficial to both builder and buyers.
Benefits to Builder
With the capacity of buyers created or increased, builder may sell more units or higher priced unit (up-selling) to buyer who may otherwise have not bought or not bought the costlier unit
Builders generally launch such schemes in projects that are not-so-hot projects in far flung areas or perceived to be costly.
Builders need finances to complete project and if units are sold late then builder needs to arrange for finance for project himself. Commercial finances costs 15 to 20% for builder while getting finance through home costs him only 10 to 12% per annum (irrespective of the rate of interest commercial loans are always more than home loans).
Benefits to Buyer
A buyer is not burdened with EMI during construction phase or while builder is paying EMI.
If builder completes project on time then builder can save EMI paid to buyers thus there is an incentive for builder to complete project on time. The incentive can be even more if there is no time clause for which builder will pay EMI.
Home loan from banks add credibility to the project and thus buyer can be doubly sure that project is genuine. However, one should always perform due diligence while investing in any real estate project.
Banks tie up with only reputable builders that have less probability of default as considered by bank and thus the relationship of banks with builder adds credibility to the project.
It is no doubt that Subvention scheme looks win-win situation for both builder and buyer, however, there are still some loopholes that builders exploit.
Buyer should watch for
Builder generally sells such units at a higher price. I have seen escalation of over 20% of base price and buyers still buy those units. A buyer should make a deliberate decision whether such escalation is acceptable cost or not.
Buyer should think whether he really needs the unit that is being sold in subvention scheme.

Investing in a scheme where the buyer may not live or cannot earn and may not even add capital appreciation may be a waste of money in the long run.
Banks grant loan after considering how much loan a person currently holds and his paying capacity. Taking this loan too reduces buyer's eligibility to get higher loan if he finds another dream home or for any other purpose.

The unit may felt like being sold at no price upfront, however, there may be hidden charges in the form of parking, electricity backup or monthly maintenance charges.
When builders pay interest component to buyers, they pay that as "income from other sources" and deduct TDS on the amount paid. The catch is that buyer needs to pay at least the TDS component himself (10% of the interest component).
Most of the times, buyers promise to pay for 2 years
Builders pay only the interest component of home loan and buyer is responsible for principle component.
If you, as consumer, is aware of how this scheme works and the pitfalls to watch for then you may take benefit of this scheme and avoid being trapped in the stories of Monica and Sameer, and Subvention scheme.